HIGH Born Lady, a fluent winner of her 1200m debut at the Vaal on 5 December, had some behavioural problems as a younger horse, and trainers Mike and Adam Azzie called on Malan du Toit for help.
Malan tells: "I've had a long and good working relationship with Mike and Adam, working with horses like Abashiri, Rivarine and years ago with the mare Mochachino, they've always called for help when it was necessary.
"Adam had experienced undue problems at the pens with High Born Lady, a really nice filly, so he asked for assistance.
"One of the reasons for High Born Lady's fractiousness was that she didn't focus, she was easily distracted and it took a long time to get her to focus on me so I could work with her.
"I took her away from the stalls, a few steps back in the process, and we started in a paddock for as while so she could get her behaviour in control, to teach her what I expected of her.
"From there, it was back to he starting stalls, she took a while but reacted well, and Adam passed her trough the pens himself.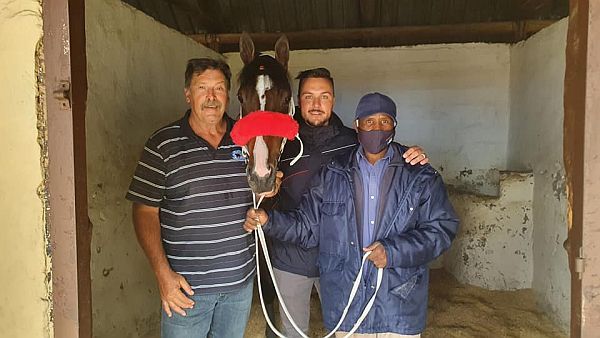 "The starter told me that things used to be quote chaotic around her at stalls practice and recommended that I'd be there for her first start and I am I glad I was, because being a big field and her first run there was plenty to distract her.
"We took her to the start at the Vaal, just did the basics and she was fine, because we knew each other well, I loaded her third or fourth from last, she went in without hassles. She was just a little difficult once in her stall, but she jumped well and won a good race, going away by three lengths."
Adam Azzie said: "Over the years, in working with Malan, he has taught me the important basics which I often apply successfully. I worked for several months with High Born Lady, as noted she was battling to focus and stubborn, and I know from experience when it is time to call in Malan's help, he is world class."
High Born Lady, by Master Of My Fate from My Kazzie, races for Team Valor's Barry Irwin, Vanashree and Anant Singh.
"She's an important filly with important owners, and Barry is chuffed with her first win," Malan concluded.