MALAN du Toit, has sent us a report and photos from the 21st Century Maritime Silk Road International Expo in the city of  Dongguan, situated in China's Pearl River Delta.
Malan recently joined South Africa's Progressive Business Forum, who seeks to market a variety of South African business overseas.  In one respect, they market tour packages to promote the beautiful South Africa landscape, including tours on which wildlife and predatory animals like lions and cheetas can be observed on horseback.
He tells: "My duty in this regard is to teach individuals how to ride and handle horses.  They don't have to be experienced riders to join our tour.  We have a package for juvenile riders and one for experienced riders.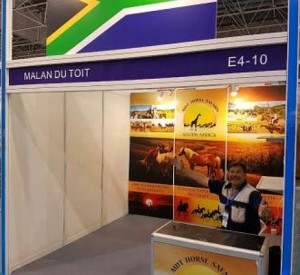 "For the more seasoned riders, we have a package focusing on horse behaviour and specifically on problem behaviour and how to deal with it. There are a number of horse farms and riding schools here, so we'd like to come back next year to present clinics in the Dongguan and Guangzoe."
Malan tells of an interesting conversation:  "I met an Indian guy here at the Expo, a keen rider himself, who expressed a big interest in my clinics and is keen to take us to India. In China itself, horse riding and all its related disciplines is a massively growing industry and it goes without saying that we can do good business here for many years to come, especially with my MDT Horse Behaviour Programs.
"The ultimate objective would be to get involved in the racing industry here, which is only starting now. They haven't had official race meetings yet, it's all in the pipeline and there will be many things we can teach them!"